Discover valuable insights, tips, and guidance tailored specifically to those starting their martial arts journey. Whether you're interested in self-defense, fitness, or personal growth, we've got you covered.
Getting Started - Part 1 of 3

Let's get you started with these few articles. This handy collection of resources are tailored to help those new to martial arts. Whether you're taking your first steps into the world of martial arts or someone looking to explore self-discovery and fitness, these articles offer valuable guidance and insights.
Are you curious about starting martial arts? It's a thrilling journey that opens up a world of self-defense, discipline, and personal growth. However, before you
Exploring Different Martial Arts Styles - Part 2 of 3


This section is your guide to understanding the diverse martial arts landscape. Whether you're a martial arts enthusiast, a curious beginner, or an instructor seeking to broaden your knowledge, these articles provide valuable insights to expand your understanding of martial arts styles.
Introduction In the world of martial arts, preparation is key to success. While you might be eager to jump into training and master new techniques,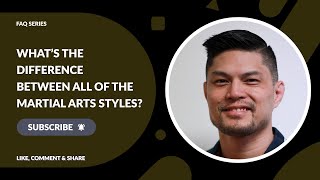 In this video, we'll cover the differences between our martial arts programs and help you choose your first class. You'll also find this video on
There are several key differences between Brazilian Jiu-Jitsu (BJJ) and Muay Thai. Muay Thai is a striking art, while BJJ is a grappling art. Muay
Muay Thai is one of the most popular martial arts in the world, and for good reason. It's an intense workout that'll leave you stronger
When it comes to martial arts, one winning combination that has gained popularity is the fusion of Muay Thai and Jiu Jitsu. In this article,
The answer to if Filipino Martial Arts is realistic is complicated, because the reality of Filipino martial arts depends on who's asking the question. Westerners
Challenges and Considerations - Part 3 of 3


Explore articles addressing common hurdles faced by new martial arts students. From conquering fears to building endurance and mastering techniques, find practical solutions for a successful martial arts journey. These articles offer valuable insights to enhance your experience.
Embarking on your journey into the world of martial arts is an exciting and transformative experience. As a new student, you're eager to embrace a
Martial arts training is definitely a great way to improve fitness, self-defense skills, and overall well-being. However, many people wonder if the financial investment in